Why Buy from Easthill Volkswagen?
Easthill Volkswagen is a great Deal! Starting with our award winning staff!
In our Sales department we offer combined Volkswagen knowledge since 1989. We pride ourselves in great product presentation and outstanding customer service during the sale and after the sale.
Sales Consultant Experience
We've found that sales consultants with more experience and training produce more satisfaction in the customers they serve. A wealth of product knowledge, listening to your needs, and, above all, a desire to keep you satisfied throughout your ownership period are all areas on which our sales staff is focused, making price negotiation a secondary concern. After all, the sweetness of a low price fades quickly, but the bitterness of broken promises lingers for a long time.
Vehicle Selection
Settling out for a car that doesn't satisfy your needs also defeats even the best price. Our dealership thinks you shouldn't have to compromise your original intentions in your vehicle purchase. For that reason, we maintain a wide selection of vehicles to give you the greatest amount of choice during your vehicle buying experience.
High Quality Service
The greatest measure of any dealership is how they handle their customers when something goes wrong. A favorable price can be offset in the space of only a few unforeseen repairs. Good, reputable service during your ownership cycle is the highest consideration of every knowledgeable vehicle buyer. That's why the technicians in our service department are kept on the cutting edge of technology through various certified training programs . At our dealership, our profit is providing you the best possible service.
The History of Plaza Auto Group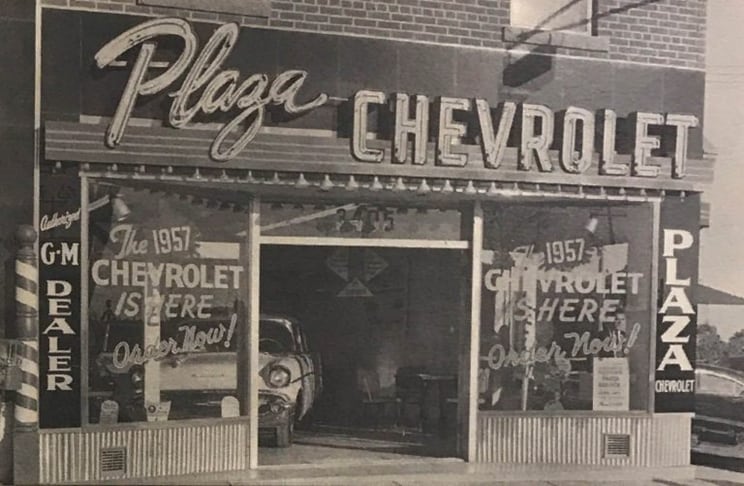 It all started with a vision to offer quality products combined with a family experience to the people of Toronto, and in 1956 Morris Stein opened Plaza Autos on a small lot in the north end of Toronto on Bathurst Street.

Only 3 short years later the vision Morris had grew beyond expectations and the space on Bathurst. In order to meet community needs Morris purchased an existing dealership at 989 Eglinton Ave W and opened Plaza's second location. It was also around this time that Morris' son Herbert began running the dealership. 
Herbert, known for his kindness grew the business on strong family morals and a passion for helping people reach their purchase goals. This success led to more growth for the family.
It was 1966 when a new dealership opened and the Stein family began to sell Pontiac, Buick, and GMC vehicles. With Herbert at the helm, the business continued to grow and over a 14 year period Herbert's son Robert was being groomed in the family business and in 1980 the third generation of the family took over as GM of the family's primary operation.
Robert is known for his connection to the community and for seeing the opportunity to expand on both Morris (the founder) and his father Herbert's efforts. As such he worked tirelessly to grow the business. Since that time the Plaza Auto Group has grown; and by spring 2020 will expand to 8 dealerships across Ontario and is now seeing the 4th generation of the family run its businesses.
With his sons Daniel, Adam and Dustin by his side Robert has seen the business flourish and with that, growth in the communities they serve.
Robert and his sons cherish the fact that Herbert, a gentleman of 90 years old, still comes to work almost every day to enjoy the company of his customers and to instill the values of family and customer service on the staff.
It is rare to see a family business last 65 years, it is even rarer to see a family business grow with now the 4th generation of family running it. However the Stein family is not like most others, while the brands may have changed the commitment to their customers, community and staff has not. With over half a million cars sold the Stein's insist that the Plaza Auto Group, its staff and customers are one big family that over time has contributed millions to a variety of philanthropic causes making their communities the best they can possibly be.
We encourage you to visit any one of our locations to enjoy the experience so many customers have had over the years, and who knows, you may just get a hello from Herbert, Rob or one of Rob's sons.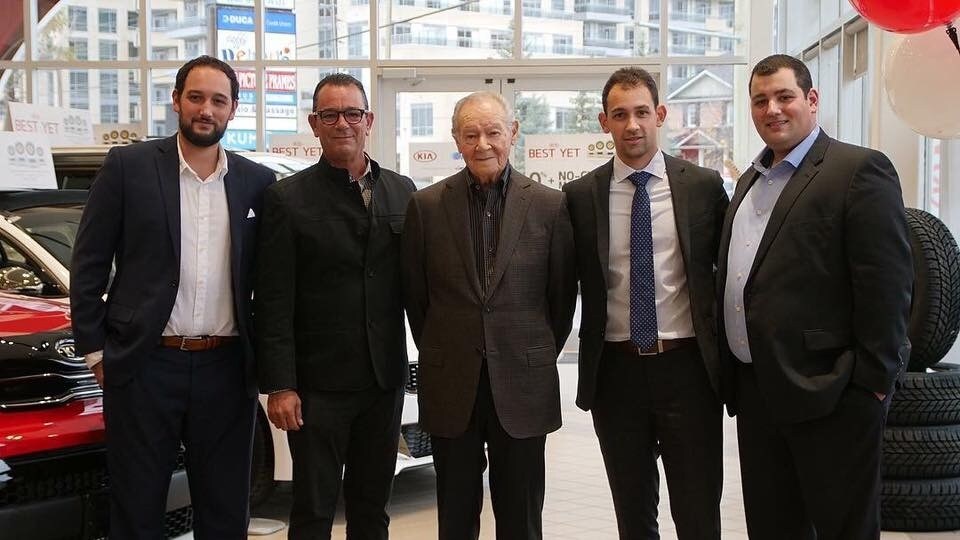 Left to Right: Daniel Stein, Robert Stein, Herbert Stein, Adam Stein & Dustin Stein.
2nd 3rd and 4th generation family all together
Hours
Monday

9:00AM-5:00PM

Tuesday

9:00AM-5:00PM

Wednesday

9:00AM-5:00PM

Thursday

9:00AM-5:00PM

Friday

9:00AM-5:00PM

Saturday

Closed

Sunday

Closed